TODAY THE ROYAL NAVY FACED OFF AGAINST THE RPF AIR FORCE
The USRPF Navy and Air Force fought for 30 straight minutes. The battle took place in 3 rooms: the Snow Forts, the Plaza and the Cove. The Navy was led by Silverburg while the Air Force was led by Elmikey. In the first room, the Navy dominated the Air Force with a firm size advantage.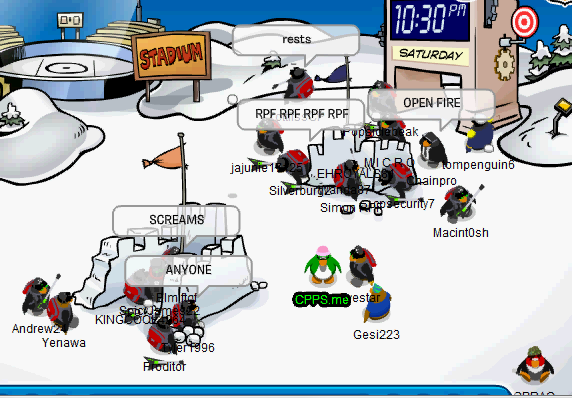 The battle soon moved to the Plaza, where the Navy and Air Force both equaled out in size. Many tactics were performed, which the Air Force had an advantage in. 
Then, the battle finally moved over to the Cove, where the Air Force gained a very significant advantage over the Navy in both size and tactics.
At approximately 8:20pm EST, Silverburg announced the Air Force's victory.
~~~~~~~~~~~~~~~~~~~~~~~~~~~~~~~~~~~~~~~~~
After the battle, RPF soon started playing Hide and Seek. Junie was the seeker, and it proved a very troubling task to find the RPF troops as they excelled at stealth. 
After around 20 minutes of playing Hide and Seek, the winners were decided. Those people were…
Popsicle, Yenawa, Simon and Andrew24!
Congratulations to those four people, you are truly the stealthiest of the stealthy.
~~~~~~~~~~~~~~~~~~~~~~~~~~~~~~~~
COMMENT IF YOU CAME
–Silverburg– RPF LEADER